Benefits & AdvantagesThe Aluminum Alloy Structure
The whole cleaning equipment adopts aluminum alloy assembled tripod, which is stable and durable, not easy to change. The surface of the aluminum alloy aluminum profile adopts negative oxidation treatment, which is not easy to be corroded by water.

The Water Tank Adopts #201 Stainless Steel
The water tank, the shield and the place in contact with the water are made of #201 stainless steel, which is harder than #304 stainless steel and contains high manganese. Chromium-rich oxides will be formed on the surface of the steel body to protect the steel body from water rust
The Gear Transmission
The equipment adopts gear transmission as a whole, and the transmission efficiency is high, generally η=0.94~0.99; the transmission ratio has a wide range, especially when planetary transmission is used, the transmission ratio can reach 100-200 (single-stage), which is suitable for deceleration or Speed-increasing transmission; reliable operation and long service life.
The Lifting System
The lifting system is driven by a servo motor, driven by a lifting screw, and combined with a gear drive. It has the characteristics of low friction loss, high transmission efficiency, and high axial rigidity. In addition, the starting torque of ball screw pair is Smaller, there will be no crawling phenomenon like sliding motion, and it can ensure the realization of precise micro-feed and high-speed feed.
The Rubber Roller Transmission
The feeding port and the discharging port of the equipment adopt frequency conversion transmission, and the operation screen is displayed for easy operation. The rubber roller is made of high-quality nitrile rubber, driven by gears, and runs smoothly. It can be connected with edging line, hollow line and laminated line for data connection and unified control.
The Imported PLC Control System
The PLC control system can be equipped with the Taiwan Delta or Germany Siemens control system according to the actual requirements of the customer. The PLC control system can be directly connected to the network, connecting the loading and unloading CNC robots to achieve a smart factory with integrated operation.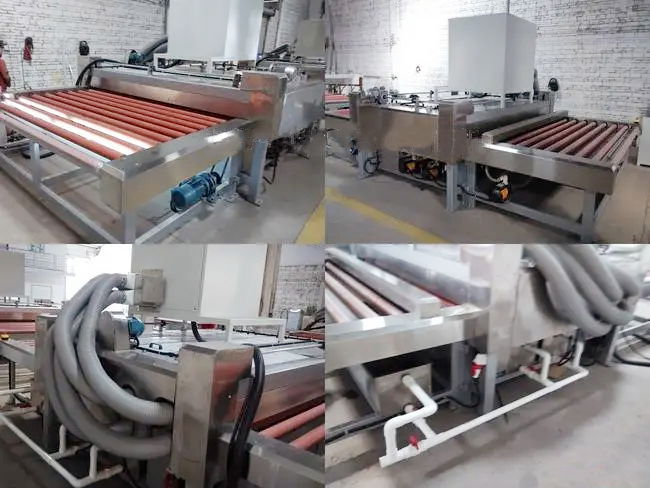 Know More