Historic windows in heritage buildings are often constructed of wood, steel profiles, or cast iron and glass. When replacing or renovating, attention must be paid to both structural requirements and cultural relic protection requirements. Among them, appearance and structural design are the most important. This includes window size/division including window core, window frame width, window opening shape, material, and construction. Because of the technical complexity of detailed reconstruction work, attempts were often made to replicate the look using standard profiles. Of course, the legal requirements of EnEV must also be complied with, the corresponding exceptions are provided in Chapter 24, however, these exceptions do not relieve the planner or manufacturer from the obligation to provide proof of thermal performance parameters. Through this article, LIJIANG Glass demonstrates a constructive way to reach a consensus between thermal insulation and cultural relic protection, that is, adding doors and windows made of vacuum-insulating glass to the renovation and protection of cultural relics.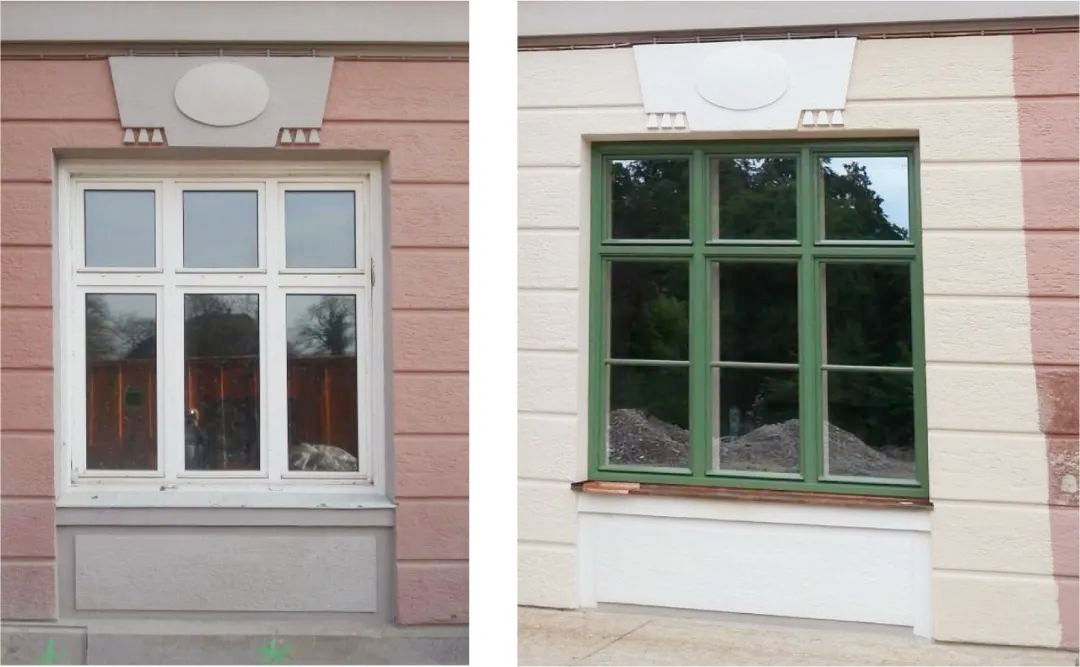 Figure 1 Expertly refurbished heritage by cloning old wooden windows (Image credit: Denkmalpflege Ritt)
1. The energy optimization
Windows with single glazing are often found in protected heritage buildings, but it is not suitable for using the building in an energy-efficient manner. However, there is a great conflict of interest between the goals of heritage conservation and the needs of contemporary users for energy efficiency, safety, and comfort. Energy improvements can be achieved by adding a second layer of window extensions as double or composite windows, inserting new glazing, or replacing them with new windows. Of course, to reduce thermal bridges, the connection between the window opening area and the building mass must be optimized. For all measures on the window, the load-bearing capacity and size of the sash and the load-bearing capacity of the hardware are usually decisive influencing factors. New windows, sashes, and room sides of glazing must be hermetically sealed, and reduced ventilation of intermediate cavities to the outside.
a.) Extended to double windows
The insulation performance can be improved at the passive house level. The Ug/Uw value is about 0.5/0.70W/m²K. The sound insulation effect can reach up to 40 dB.

Figure 2 Extended to double windows 1
b.) Extended to composite windows
Using light weight double-layer glass, the Uw value can reach 1.20W/m²K, and the vacuum insulating glass is 0.5-0.7W/m²K. The sound insulation value can reach 40-45db. The sound insulation effect can be improved by 32dB.

Figure 3 Extended to composite windows
c.) Replace the glass
Reinforced thin glass (3 mm, maximum glass thickness 14 mm) can be replaced if the glass is embedded to a depth of up to 15 mm. Vacuum glass about 4-6 mm is good for replacement. The U value*1Ug/Uw value of coated single-layer glass is about 3.0/3.00, the Ug/Uw value of thin insulating glass is about 1.1/1.20, and the Ug/Uw value of vacuum glass is about 0.5/0.80W/m²K. Structural measures, such as the glass insertion depth, must be taken into account here. It doesn't make sense to replace vacuum-insulating glass with 1:1 single-layer glass.

Figure 4 replace the glass
*1) Based on standard glass size 1.23m x 1.48m
d.) Replace the windows
Special window profiles are available to replace windows in heritage areas so as not to alter the look. If a UV-resistant edge seal is used, the glass channel may be limited to 15mm. In this way, windows in cultural relics-protected buildings can also reach the Uw value level of passive houses, that is, 0.70W/m²K.

Figure 5 Replace the windows
2. Use the vacuum insulating glass
In cases a) to c), thermal insulation can be improved by using vacuum-insulating glass (VIG). However, so far there is no supplier on the market that offers individually designed products with different window sizes and types. In the "MOTIVE" research project, the Austrian Wood Research Institute explored the basic elements of vacuum glazing units and investigated the advantages and disadvantages of different structural variants. However, the durability of vacuum-insulating glass products has not been systematically studied. Common to all structures is a very deep glass embedment depth of 30 to 40 mm, which is necessary to compensate for thermal bridges in the glass edge seals.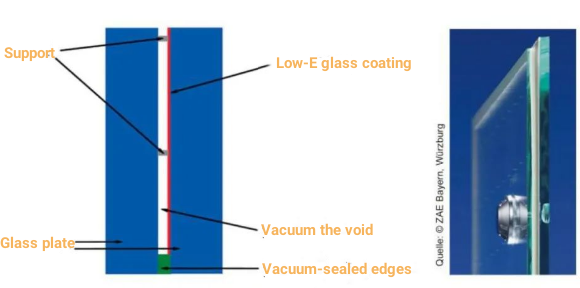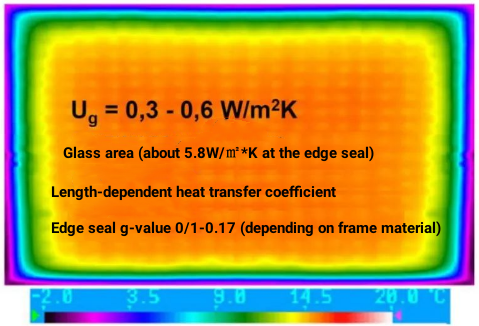 Figure 6 The basic structure and thermal parameters of insulating glass, and the temperature characteristics of the glass edge area
Using vacuum glazing, it is possible to create slender structures with good overall energy efficiency (minimum energy building standards), which allows the use of profiles of old wooden windows with single glazing. The lower weight and lower glass thickness compared to triple-pane insulating glass also offer good opportunities for new opening types and directions of movement. Further joint research work is required to develop suitable profiles, locking devices, hardware, and sealing strips, as well as motorization and control technology.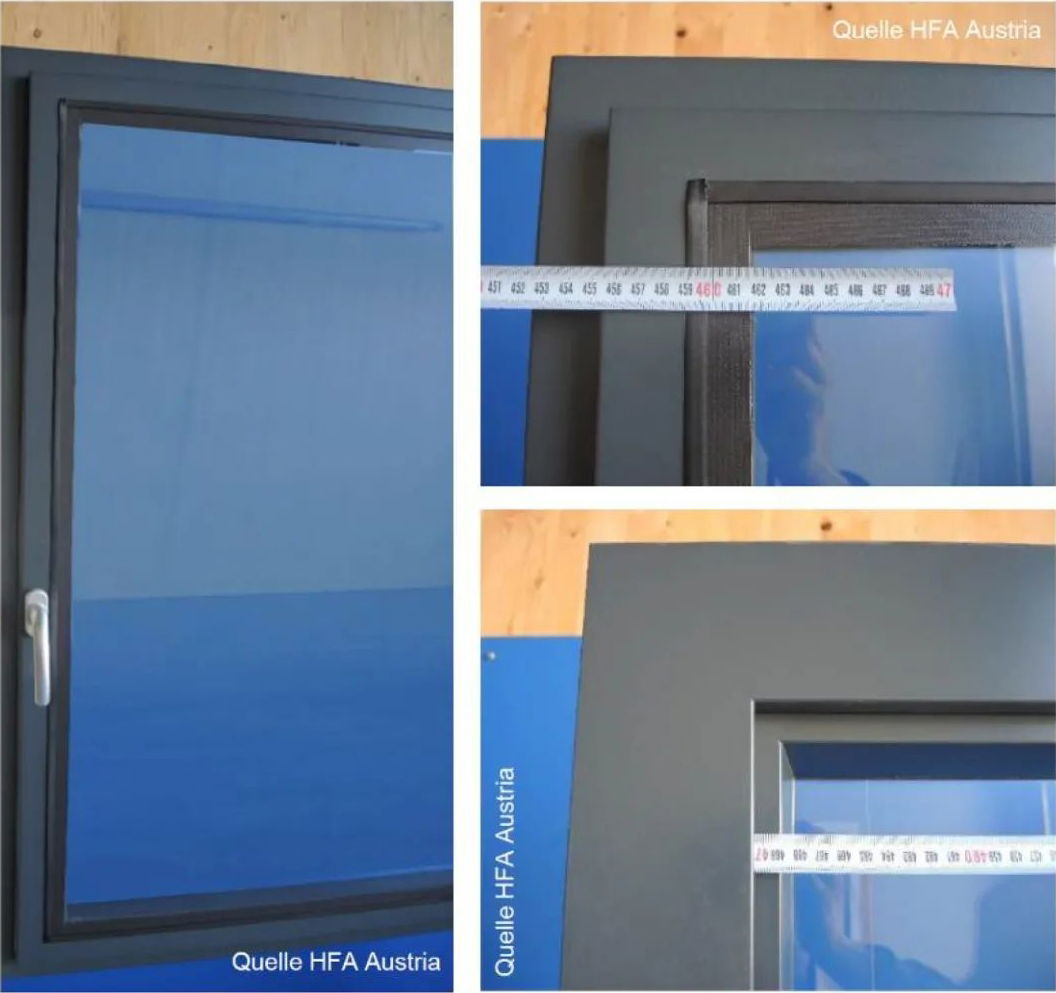 Figure 7 Window design study using very slender profiles. Windows open inwards using vacuum insulating glass (Image credit: Holzforschung Austria, HFA)
3. Building regulations and durability of vacuum insulating glass
Since the thermal and acoustic insulation properties are related to the maintenance of the vacuum and the durability of the glass coating between two individual panes, their durability should be demonstrated through ISO 19916-1:2018-10. Unlike MIG, the emphasis is on loads caused by heat-induced length changes and deformation-induced length changes, because VIG has a very strong edge sealing system compared to "regular" MIG. In ISO 19916-1, unidirectional climatic loads superimposed by wind pressure and suction loads are not considered. Larger deflections and thus larger shear loads at the edge seals occurred during the inspections carried out at ift Rosenheim. Therefore, based on the knowledge of the influence when used in windows and curtain walls, ift Rosenheim has developed a test method that can prove the durability when used in windows and curtain walls.

Figure 8 According to the ift detection scheme of ISO19916-1, considering the superimposed influence of climate load and wind pressure
In the ift test method, the heat transfer coefficient Ug of the VIG is first determined in a panel device or a hot box, which is then installed in a sample curtain wall and exposed to climatic and mechanical loads. After the load cycle, the Ug value is measured again and the deviation from the entered value is determined. In addition, small vacuum-insulating glass units are subjected to a combination of moisture and UV rays to test the durability of the edge seals under changing climatic loads. Finally, the Ug value test was performed again to be able to evaluate the change in the heat transfer coefficient.
Heat transfer coefficient as a parameter of durability
| | |
| --- | --- |
| | Ug W/(㎡*K) |
| Input value | 0.4-0.5 |
| Changes after temperature and mechanical load | ≈ 0.01-0.02 |
| Changes after climatic alternating loads and UV radiation | ≈ 0.04 |
| Overall change compared to input value | ≈ 0.04-0.05 |
Table 1 The changes in Ug value after testing durability according to ift test method
For practical use in windows and curtain walls, other performance characteristics such as sound insulation, sunshade, fire protection, and safety in use are of course required.
However, the integration of VIGs in window frames or curtain wall structures requires structural adjustments to previous window or curtain wall structures, especially to reduce condensation water formation in the edge area of the glass.


Window profile

Curtain wall profile

Wood

Plastic

Metal

Wood-metal

Metal

Aluminum alloy doors and windows

0.09
0.09
0.13
0.11
0.17
Warm edge doors and windows

0.06
0.06
0.08
0.08
0.12
Edge sealed vacuum insulating glass
0.10
0.10
0.14
0.13
0.17
Table 2 Effect of VIG on condensate formation, length-dependent heat transfer coefficient ψg at the edge seal
Author
M.BP. Dipl.-Ing. (FH) Manuel Demel, ift Rosenheim
Dipl.-Ing. (FH) Jürgen Benitz-Wildenburg, ift Rosenheim
Dipl.-Ing. (FH) Karin Lieb, ift Rosenheim
References
[1] Christine Milch, Fraunhofer -Institut Für Bauphysik IBP, Holzkirchen, Vortragsmanuskript "Sanierung Denkmalgeschützter Gebäude -TRADITION UND MODRERERERE Ne Im Einklang "
[2] Energieeinsparverordnung (EnEV)
[3] Leitfaden zur Planung und Ausführung der Montage von Fenstern und Haustüren (Erstellt vom ift Ro-senheim und der RAL-Gütegemeinschaft Fenster und Haustüren e.V., 3/2013)
[4] Fachgerechter Unterhalt und Sanierung von Fenstern, Merkblatt des Kantons Basel-Landschaft Bau- und Umweltschutzdirektion, Kantonale Denkmalpflege
[5] Glaser, Siegfried, Vakuumisolierglas – Eine Alternative zum Dreifachglas? Stand der Entwicklung und der Verfügbarkeit, Vortrag anlässlich der Rosenheimer Fenstertage 2009
[6] Produktionstechniken von Glas, (ProVIG)_IWM/ISE-2012_BMWi
[7] Hochwärmedämmende Fenster- und Fassadensysteme, (HWFF)_ZAE/SKZ_2011_BMWi
[8] Modellierung, Optimierung und technische Integration von Vakuum-Elementen: Sondierung über die Detaillierung von Vakuumgläsern in neuen Holz(Alu)-Fenster-Konstruktionen – Detaillierung, Bau und Simulation, TU Wien/HFA_2017_BMVIT
[9] ISO 19916-1:2018-10, Glass in building – Vacuum insulating glass – Part 1: Basic specification of products and evaluation methods for thermal and sound insulating performance.
For more information about LIJIANG Glass insulating glass processing equipment and insulating glass processing accessories, please click here to learn more.