According to Vietnam's Ministry of Construction, the supply of cement, ceramic tiles, and architectural glass exceed demand. Due to the vigorous investment in these three industries, the combined total output is close to reaching the 2025 output target.
The picture shows an architectural glass factory in Binh Duong Province. Vietnam's cement, ceramic tile, and architectural glass industries have serious overproduction, so future investments in these industries should be carefully considered.
In 2020, Vietnamese cement manufacturers produced more than 104 million tons of cement, but only 62 million tons were sold in the domestic market and 38 million tons were exported. According to the Vietnam Cement Association, domestic demand is slowing, leading to fierce competition among domestic suppliers. Exports of cement and clinker in the first five months of this year increased by 50% year-on-year.
Luong Duc-Duc Long, vice chairman and secretary-general of the association, said that this is because the country has expanded its cement exports in developing countries. However, he said that cement exports to these markets cannot be continued because these countries are also focusing on developing their cement industries.
The supply of the architectural glass industry is also higher than the demand, and the output in 2020 will exceed 80 million square meters. Several manufacturers had to shut down some of their production lines.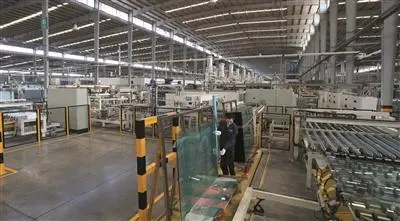 The Glass manufacturers production lines 1
At the same time, Vietnam's ceramic tile manufacturers produced 560 million square meters of tiles in 2020, but only sold 465 million square meters. According to the Vietnam Construction Ceramics Association, domestic ceramic tiles must also compete with imported ceramic tiles. China's ceramic tile products account for 25% of the Vietnamese market, but the price is very cheap.
CMC, a building materials manufacturer, saw its revenue drop by 14% in 2020. Last year, the supply exceeded demand, which led to fierce competition. The company cut prices sharply just to destock.
Deputy Minister of Construction Nguyen Van Sinh said that investment projects in these three industries should be reconsidered, and local governments should seek advice from national authorities to avoid excessive investment and waste of manpower. He said that investment in cement production in large cities and regions that need environmental protection should be restricted.
Disclaimer: The above views do not represent the position of Jinan LIJIANG Glass, and the copyright belongs to the original author and source. The content of News is the author's personal opinion, and it does not mean that Jinan LIJIANG Glass agrees with his opinion and is responsible for its authenticity. Jinan LIJIANG Glass only provides references and does not constitute investment and application advice.