One week after the release of the hydrogen strategy of the British government, a trial of using 100% hydrogen to produce float glass was started in the Liverpool area, which was the first time in the world.
Fossil fuels such as natural gas usually used in the production process will be completely replaced by hydrogen, which shows that the glass industry can significantly reduce carbon emissions and take a big step towards achieving the goal of net-zero.
The experiment was conducted at the St Helens factory in Pilkington, a British glass company, where the company first started manufacturing glass in 1826. To decarbonize the UK, almost all economic sectors need to be transformed. Industry accounts for 25% of all greenhouse gas emissions in the UK, and reducing these emissions is vital if the country is to reach "net zero."
However, energy-intensive industries are one of the more difficult challenges to deal with. Industrial emissions, such as glass manufacturing, are particularly difficult to reduce emissions through this experiment, we are one step closer to overcoming this obstacle. The pioneering "HyNet Industrial Fuel Conversion" project is led by Progressive Energy, and hydrogen is provided by BOC, which will provide HyNet with confidence in replacing natural gas with low-carbon hydrogen.
This is considered to be the world's first large-scale demonstration of 100% hydrogen combustion in a living float (sheet) glass production environment. The Pilkington test in the United Kingdom is one of several ongoing projects in northwest England to test how hydrogen can replace fossil fuels in manufacturing. Later this year, further trials of HyNet will be held in Port Sunlight, Unilever.
These demonstration projects will jointly support the conversion of glass, food, beverage, electricity, and waste industries to the use of low-carbon hydrogen to replace their use of fossil fuels. Both experiments used hydrogen supplied by BOC. In February 2020, BEIS provided £5.3 million in funding for the HyNet Industrial Fuel Conversion Project through its energy innovation project.
HyNet will start decarbonization in the Northwest of England from 2025. By 2030, it will be able to reduce carbon emissions by as much as 10 million tons a year in northwest England and northeast Wales—the equivalent of reducing 4 million cars on the road every year.
HyNet is also developing the UK's first low-carbon hydrogen production plant in Essar, located in the Manufacturing Complex in Stanlow, and plans to start producing fuel hydrogen in 2025.
David Parkin, Project Director of HyNet North West, said: "Industry is very important to the economy, but it is difficult to achieve decarbonization. HyNet is committed to removing carbon from industry through a series of technologies, including capturing and locking carbon, and producing and using hydrogen as a low carbon fuel."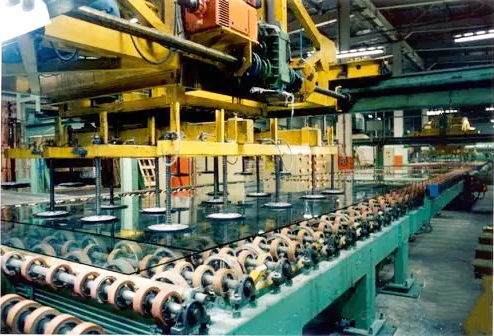 The world's first glass factory using 100% hydrogen 1
"HyNet will bring employment and economic growth to the Northwest, and start a low-carbon economy. We are focused on reducing emissions, protecting the 340,000 existing manufacturing jobs in the Northwest, and creating more than 6,000 new permanent jobs. , So that the region embarked on the path of becoming a world leader in clean energy innovation."
Matt Buckley, general manager of Pilkington UK Ltd., a subsidiary of NSG Group, said: "Pilkington and St Helens once again stood at the forefront of industrial innovation and conducted the world's first hydrogen test on a float glass production line."
"HyNet will be a major step in supporting our decarbonization activities. After several weeks of full-scale production trials, it has successfully proven that it is feasible to operate a float glass factory with hydrogen safely and effectively. We now look forward to the HyNet concept becoming a reality."
Disclaimer: The above views do not represent the position of Jinan LIJIANG Glass, and the copyright belongs to the original author and source. The content of News is the author's personal opinion, and it does not mean that Jinan LIJIANG Glass agrees with his opinion and is responsible for its authenticity. Jinan LIJIANG Glass only provides references and does not constitute investment and application advice.