In the first five months of this year, Viglacera's profit exceeded 700 billion VND, but the company did not disclose whether it was pre-tax profit, after-tax profit, or net profit.
According to Viglacera's head office (code: VGC) just announced the profit results for the first five months of 2021, the company's profit reached nearly 703 billion VND, which is twice that of the same period in 2020. Especially in May 2021, Viglacera's profit exceeded 128 billion VND, and the monthly plan was completed.
In 2021, the company set a consolidated revenue target of 12 trillion VND, an increase of 27% over 2020; the pre-tax profit target reached 1 trillion VND, an increase of 19%.
Viglacera said that in May 2021, companies were affected by the fourth outbreak of COVID-19, especially the suspension of industrial parks, including Anfeng Industrial Park and Xianshan Industrial Park in Bac Ninh Province, and some parks suspended glass production.
However, the company stated that Viglacera's industrial park still maintains normal operations and complies with epidemic prevention measures.
Before this, in the first quarter of 2021, Viglacera's after-tax profit increased by 66% to 280 billion VND. According to the management, the increase in profit is mainly attributable to the income from the real estate business in the industrial zone.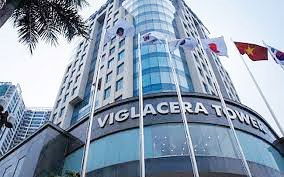 The Vietnam Viglacera's Tower
In addition, in the field of construction materials, glass and sanitary products both grew well compared with the same period last year. Among them, the sales volume of architectural glass products increased well, and the sales price also rise. At the same time, Fume Super White Float Glass Co., Ltd. has already made profits in the first quarter after it was officially put into operation.
The company also stated that "bathroom products have also performed well, especially Meichun Viglacera Porcelain Co., Ltd. has stabilized its production and operation activities and has begun to utilize the benefits of investment projects.
Disclaimer: The above views do not represent the position of Jinan LIJIANG Glass, and the copyright belongs to the original author and source. The content of News is the author's personal opinion, and it does not mean that Jinan LIJIANG Glass agrees with his opinion and is responsible for its authenticity. Jinan LIJIANG Glass only provides references and does not constitute investment and application advice.