Tehran - According to Iranian National Television (IRIB), the 6th International Glass Industry, Crystal, Porcelain, Machinery and Auxiliary Industry Exhibition (Iran Glass Exhibition 2023) will be held at the Tehran International Expo Center from July 14th to 17th. held.
According to Hossein Zojaji, head of the Iranian Glass Association, the exhibition will showcase the latest achievements of the glass industry, including new machines, equipment, production lines, methods of mining and processing raw materials, and various glass products such as architectural glass, curtain wall glass, doors and windows, Office glass, curved glass, automotive glass, and bulletproof glass.
It is reported that hundreds of Iranian companies as well as representatives from Italy, Germany, Turkey, and China will participate in the four-day international glass exhibition.
The purpose of this exhibition is to promote the development of this industry and chart the course for the development of the glass industry in the country by studying the challenges and issues facing the glass industry and by comparing Iran with other leading countries in this field.
Familiarize yourself with the latest products and developments in the glass industry, exchange information, and technical knowledge among participants, let the audience know about the latest achievements in various sectors of the industry, establish direct communication between producers and consumers, create investment opportunities, create employment and marketing opportunities as well as the promotion of exports are also the most important goals of this exhibition.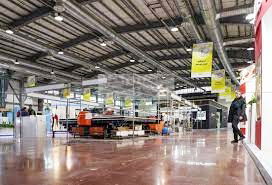 Figure 1 The Iran Glass Exhibition 2023
Several domestic and foreign investment delegations also plan to visit the exhibition to discuss future cooperation with major participating companies. Iran produces more than 2.5 million tons of glass annually, of which 1.6 million are flat glass, 450,000 tons are bottles and the rest are crystal products.
Currently, 10 large and active glass factories in Iran produce 450,000 square meters of architectural glass every day, about 40% of which are exported to countries such as the Persian Gulf, Central Asia, and even Europe.
Disclaimer: The above views do not represent the position of LIJIANG Glass, and the copyright belongs to the original author and source. The content of News is the author's personal opinion, and it does not mean that LIJIANG Glass agrees with his opinion and is responsible for its authenticity. LIJIANG Glass only provides references and does not constitute investment and application advice.