Sustainability and circular economy have an increasing impact on glass manufacturing work and production processes. This has been the key to the insulating glass industry for a long time, but it is in a difficult situation in the flat glass industry.
Whether as reusable packaging or as a recyclable material, the recycling system of insulating glass has a certain tradition in Germany, and the recycling rate is very high. This saves raw materials and energy, while also reducing carbon dioxide emissions.
However, it is more difficult for flat glass-flat glass fragments can only be reused to a limited extent, and the quality requirements are high. Flat glass shards arrive at recycling companies in various forms depending on their application field, but only rarely float or cast glass: cullet has thermal or visual protection coating, can be printed with ceramic ink, can be used as laminated glass, or wire Part of glass. All of this complicates the preparation process and reduces the number of cullet that can be reused. In addition, the use of laminated glass with specific functions will become more frequent in the future, so the challenges will become greater and greater.
Generally speaking, shards of flat glass come from two places. Broken glass is produced during cold end manufacturing, such as cutting or pre-stressing systems. Once coating, laminating or other treatments are carried out, it is no longer so simple.
With the increase of architectural elements, recycling becomes more difficult, and this is the second place where flat glass fragments are generated. Flat glass from the automotive industry, curtain wall, or door and window industries is increasingly demanding recycling companies. Laminated glass contains a variety of materials, from PVB film, liquid crystal layer to metal.
At the same time, no matter in developing countries or developed countries in Europe and America, there is almost no system that enables these glass products to be recycled and prepared in a traceable manner. According to new data, broken glass accounts for 26% of the raw materials for flat glass in Europe. It is currently estimated that technology, infrastructure, and economic framework conditions make the application rate of cullet glass up to 37%.
The Netherlands has a nationwide recycling system. According to an initiative to establish a recycling system in 2000, the Dutch Vlakglas recycling system was established in 2002. This recovers all types of flat glass, including metal wire glass and laminated glass, and processes them into recycled materials. The basis of the recycling system is to establish a network of recycling points at glass manufacturers or processors, waste management centers, and on-site recycling stations.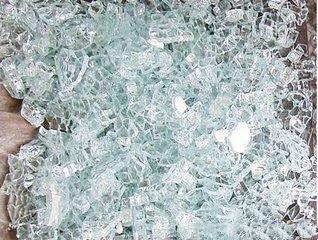 The recycling of flat glass 1
The funding for the system comes from a mandatory recycling fee calculated based on the area of manufactured or imported glass. In 2019, the Dutch Vlakglas recycling system recovered about 80,000 tons of flat glass, which was only 7.5% of it in 2018, and was used again in the float glass manufacturing process. The amount of glass is still small. Like other countries, most of them use the container glass industry and glass wool processing. However, in the long run, the organization's goal is to increase the recycling rate of waste flat glass to 20%.
The flow of materials in Europe is unknown
Few countries in Europe can track the flow of flat glass materials. In ift Rosenheim's research, information comes from German flat glass recyclers, float glass factories, flat glass trimmers, insulating glass manufacturers, and the window/curtain wall industry. Since many stakeholders are unwilling or unable to provide details, the data is mainly based on information provided by recycling companies. These data are not conclusive and contradictory in some respects.
Further investigations in other European countries are more complete. Research on architectural glass in the United Kingdom shows that some window manufacturers are willing to improve the recycling process within the social responsibility of the company, but it is also obvious that without legal requirements, it is impossible to expect significant improvements. The same goes for the REVALO project in France.
However, it is necessary to understand the recycling infrastructure of each country to understand the flow of materials. At present, both infrastructure and legal requirements are sufficient to track the flow of recyclable materials, processed laminated glass, and building components, so that a large part of it can be re-applied to the production of higher-quality products.
The basic legal provisions in this regard are the Waste Framework Directive No. 2008/98/EC and the Landfill Directive No. 1999/31/EC. Discussions between the Glass Technology Forum and the European Glass and European Glass Recyclers' Federation indicate that these groups have largely the same goals.
Sustainability begins with the development
Since the actual material flow is still difficult to quantify, more specific target values need to be determined for flat glass, such as in demolition and renovation projects. In this way, the actual technical costs and financial expenditures can be more accurately quantified. High costs often prevent recycling companies from processing building materials that contain glass. Separating materials from other construction waste is an early obstacle while removing building components is a greater challenge.
The workload and personnel expenditure of separating building materials, the space required, and transportation costs are just some of the factors that need to be considered. However, in many countries, it is still possible to treat glass waste from landfills together with other materials as inert materials. In this way, important raw materials will be lost. In the future, laminated glass will contain more materials that can be recycled.
To do this cost-effectively in the future, it is necessary to strengthen or develop entirely new separation technologies-a task that mechanical engineering and R&D must overcome together. Before a manufacturer launches a new product on the market, it is necessary to consider its service life, because sustainability begins with product development.
Therefore, much work remains to be done. The currently effective "Waste Framework Directive" points out the direction. Even today, glass can certainly make a significant contribution to the circular economy and sustainability. But the potential of glass in this area is far from exhausted, for example, what steps can architectural glass and windshield be achieved in the quota plan and "recycling design". The currently revised "Decommissioned Vehicle Directive" will be the first step in formulating specific requirements.
Disclaimer: The above views do not represent the position of Jinan LIJIANG Glass, and the copyright belongs to the original author and source. The content of News is the author's personal opinion, and it does not mean that Jinan LIJIANG Glass agrees with his opinion and is responsible for its authenticity. Jinan LIJIANG Glass only provides references and does not constitute investment and application advice.