News from Patna: Bihar is building a transparent glass sky bridge to welcome tourists from all over the world who like to travel and explore, to drive the local tourism economy.
This glass bridge is India's first glass bridge. It is built amidst scenic mountains and is located in Rajgir County, Nalanda, the hometown of India's Chief Minister Nitish Kumar.
The 200-foot-high, 85-foot-long, and 6-foot-wide glass bridge is likely to be opened to tourists early next year. The project is underway. Some 15mm glass mirrors have been used to build the bridge. It is reported that the thickness of the mirror is 45 mm and it is completely transparent. Visitors walk on the glass bridge and feel like floating in the air. The local government and tourism bureau are also very concerned about the safety of tourists. The bridge can accommodate about 40 tourists at a time.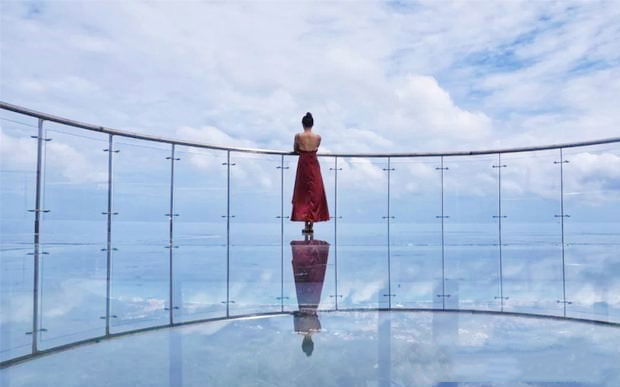 The India's first glass bridge 1
Chief Minister Kumar, accompanied by officials, visited the site last Saturday and personally inspected the construction of the glass bridge. He said: "The construction of the magnificent glass bridge is in full swing and will be completed by March next year. At the same time, I have asked officials to seek help from specialists to ensure the safety of the glass bridge." The miracle of architecture is part of the 500-acre nature wildlife park under development. "I have asked the officials to develop in this way so that tourists who come here can feel everything." According to the officials, tourists who come here can also archery, ride, hike, treehouses, wooden houses, and medical parks. With the help of ropes, the sky bike is another highlight here.
According to reports, technically speaking, this is the second glass bridge in India; but in fact, such a glass bridge is still the first. The first glass bridge built in Rishikesh, Uttarakhand region has not yet been completed. In February 2020, Uttarakhand announced the replacement of the iconic Lakshman Cable Bridge built-in 1923 with a glass bridge because it is not suitable for tourists. According to the design of the Works Department, the total length and width of the new bridge are 132.2 meters and 8 meters respectively, and the width of the glass floor is 1.5 meters. However, the construction of this bridge has not yet begun.
Disclaimer: The above views do not represent the position of Jinan LIJIANG Glass, and the copyright belongs to the original author and source. The content of News is the author's personal opinion, and it does not mean that Jinan LIJIANG Glass agrees with his opinion and is responsible for its authenticity. Jinan LIJIANG Glass only provides references and does not constitute investment and application advice.