Share: New design capabilities in the manufacture of glass are boosting growth in the market. At the same time, this also means more choices available to the glass purchaser. To assist in your sourcing efforts and understanding of the glass marketplace, we have compiled lists of top competitors in the glass market in the tables below. The first table shows the Key North American Glass Suppliers Identified by Niche. The second table displays Top Global Glass Suppliers.
Key North American Glass Suppliers Identified by Niche
Increasing urbanization and a drive for a value-added product are helping the glass market to shine. In selecting a supply chain partner, it can help to identify the particular manufacturers in your niche. Table 1 below identifies key players in certain glass areas that are based in the U.S. Dashes indicate where data was unavailable. Annual sales are shown in millions of US dollars.
Table 1: Key North American Glass Suppliers Identified by Niche
| | | | | |
| --- | --- | --- | --- | --- |
| Niche | Company | Location* | Founded* | Company Size*(in number of employees) |
| Architectural and Decorative Glass | McGrory Glass | Paulsboro, NJ | 1984 | 50-99 |
| Architectural Glass | Viracon | Owatonna, MN | 1970 | 1,200 |
| Automotive | Belletech | Bellefontaine, OH | — | 116 |
| Decorative Glass | Gardner Glass Products | Wilkesboro, NC | 1962 | 68 |
| Food and Beverage | Owens-Illinois | Perrysburg, OH | 1903 | 26,500*** |
| Scientific Glass | ThermoFisher Scientific | Waltham, MA | 1956 | 1000 |
| Specialty Glass | Pegasus Glassworks Inc. | Sturbridge, MA | 1997 | 55** |
| Smart Glass | Smart Glass Country | Vancouver, BC | — | — |
| Technical Glass | Technical Glass Products Inc. | Painesville, OH | 1989 | 44** |
* Data for Table 1 comes from Thomasnet supplier profiles.
** Data for Table 1 comes from Owler.
*** Data for Table 1 comes from the company's website.
Company Summaries
McGrory Glass focuses on meeting the glass needs of the building, corporate, education, government, healthcare, and industrial sectors. McGrory Glass supplies lobby glass, ceiling glass, canopy and door, and entrance glass and elevator cab glass, and more, as well as a wide range of decorative glass options.
Viracon Inc. has manufacturing facilities throughout the U.S. and in 2010 expanded also to Brazil. Viracon provides a single-stop fabricator of insulating, insulating laminated, protective, laminated, acoustical, heat-treated, and more types of architectural glass.
Belletech began supplying glass to the automotive industry at its inception over 30 years ago. Today Belletech also provides injection molding, injection molding-automated taping, and assembly system design.
Gardner Glass Products supplies the interior design market. Fabricating mirrors and decorative glass since 1962, GGP markets its products under a dream walls brand name for colored glass, glass markerboards, acid-etched products, and mirrors.
Owens-Illinois is focused on glass bottles and jar manufacturer. The company has grown since 1903 to more than 26,500 employees at 77 plants in 23 countries. Owens-Illinois recently acquired a glass packaging plant in Mexico to extend its global reach.
ThermoFisher Scientific is a manufacturer of analytical and technology-based instruments and systems. It is also a manufacturer of microscopic glass and specialty glassware. ThermoFisher promises, "the reduction of impurities in our glass, including metallic contaminants in common float glass, reduces fluorescence and provides a consistent platform for your samples."
The ISO 9002 certified Pegasus Glassworks Inc. brings in-house the engineering formulations and processing glass melts needed to shape specialty glass. Pegasus uses a state-of-the-art extrusion process to draw achieve various sizes and multi-fiber configurations.
The Canada-based Smart Glass Country develops innovative switchable glass products for clients in North America and around the world. An early adopter of smart glass technology, Smart Glass Country offers switchable glass and smart tints. One product is an office glass wall controlled by voice command.
Technical Glass Products, Inc. (TGP), unsurprisingly, focuses on the manufacture of technical glass. TGP is a fabricator of Fused Quartz Glassware maintaining a wide inventory of labware, flat stock, rod, and tubes in addition to providing custom fabrication.
Top Global Glass Suppliers
Below is a list of the top competitors in glass manufacturing worldwide. In addition to the company's annual revenues and the number of employees globally, Table 2 also shows the companies' home country and longevity. Dashes indicate where data was unavailable. Annual sales are in US dollars.
Table 2: Top Global Glass Suppliers*Data for Table 1 comes from the company's websites.
Table 2: Top Global Glass Suppliers
*Data for Table 1 comes from the company's websites.
**Data for Table 2 comes from Owler.
***Data for Table 2 comes from Hoovers.
***Data for Table 2 comes from Bloomberg.
Company Summaries
Saint Gobain has a long history in a glass. In fact, it innovated the Hall of Mirrors in Versailles centuries ago. Today Saint Gobain focuses on the design, manufacture, and distribution of products for cars, home and office, and health and industrial applications. Sustainability and innovation are focal points of this company, which touts that 1 in 4 of its products didn't exist five years ago.
PPG Industries is an ISO/IEC 17025:2005 and ISO 14001:2015 quality certified manufacturer that has been in business for over a century. Originally founded as Pittsburgh Plate Glass, the company has since branched out into paints, coatings, optical products, and specialty materials. PPG is ranked on the Fortune 500 (#183).Corning International is an ISO 9001:2008/2015 and ISO 14001:2004/2015 specialty glass manufacturer.
Corning's main market segments are telecommunications, automotive, display, and life science vessels. The company is ranked on the Fortune 500 (#279).
AGC, formerly Asahi Glass Co., has the majority of its employees based in Japan and Asia (32,000). A smaller European presence is followed by an even smaller North and South American presence. AGC manufactures automotive glass as well as architectural glass, electronic materials, and chemicals.
With sales distributed over 100 countries, Nippon Sheet Glass's revenues come relatively evenly from automotive and architectural products. NSG, a Japan-based company, is also a leader in the thin technical glass used for optical devices, glass fiber, display, and other applications.
Pilkington manufacturers solar control, thermal insulation, fire protection, noise control, self-cleaning, decoration, and other glass systems. Pilkington Group Limited is a wholly-owned subsidiary of the Japan-based NSG Group. Although headquartered in the UK, a central organizational hub is found in Germany.
Vitro focuses on five business areas: glass containers, architectural glass, and automotive glass as well as machinery and equipment and chemicals. Headquartered in Mexico, Vitro began with one glass containers plant in Nuevo Leon. It has since made strategic acquisitions in Bolivia and the United States to expand its reach.
Billing itself as an "Architectural and Commercial Glass Specialist," Cornwall Glass launched in Plymouth, England in 1978. Cornwall Glass is a family-owned glass manufacturer and glazing company.
Sichuan Shubo Group produces float glass, stained glass, bulletproof glass, tempered glass, and other related products for global markets. Sichuan Shubo Group has four glass factories producing various kinds of fine white material, high white material glass bottles, white material, and green material of beer bottles, fruit wine bottles, milky glass bottles, and more. The annual output is up to 300,000 tons.
Guardian Glass began as a small windshield manufacturer in Detroit, Michigan. Today, Guardian Industries supplies glass products to 160 countries on five continents. Guardian is a wholly-owned subsidiary of Koch Industries, Inc. manufacturing float glass, fabricated glass products, fiberglass insulation, and building materials for commercial, residential, and automotive applications.
Beijing Glass Group Company was formed in 1996 from the Peking Glass Company, which opened its doors in 1940. Beijing Glass Group Company produces daily glass, industrial glass, technical glass, as well as quartz and silicon materials, high-grade fused refractories, photovoltaic cell components, and eyewear and eye care products.
China Yaohua Glass Group Corporation Co.,Ltd. (formerly Qinhuangdao Yaohua Glass Factory) founded in1922,which is the first machinery continuously made glass manufacturer in China even Far East.It was honored as "the Cradle of China Glass Industry".Yaohua has solid technical,brand,talent and market advantages.Over the years,Yaohua takes State-level R&D Center and post-doctoral research station as platform and independently developed online Low-E glass,self-cleaning glass,borosilicate glass,aluminosilicate glass,fused silica glass and a number of other domestic leading,international advanced new products.
Among them, the Shandong branch of China Yaohua Group uses the Insulating Glass Butyl Extruder and Coating Machine of Jinan Lijiang Automation Equipment Co., Ltd. to produce Low-E glass. The product equipment runs well to ensure glass quality.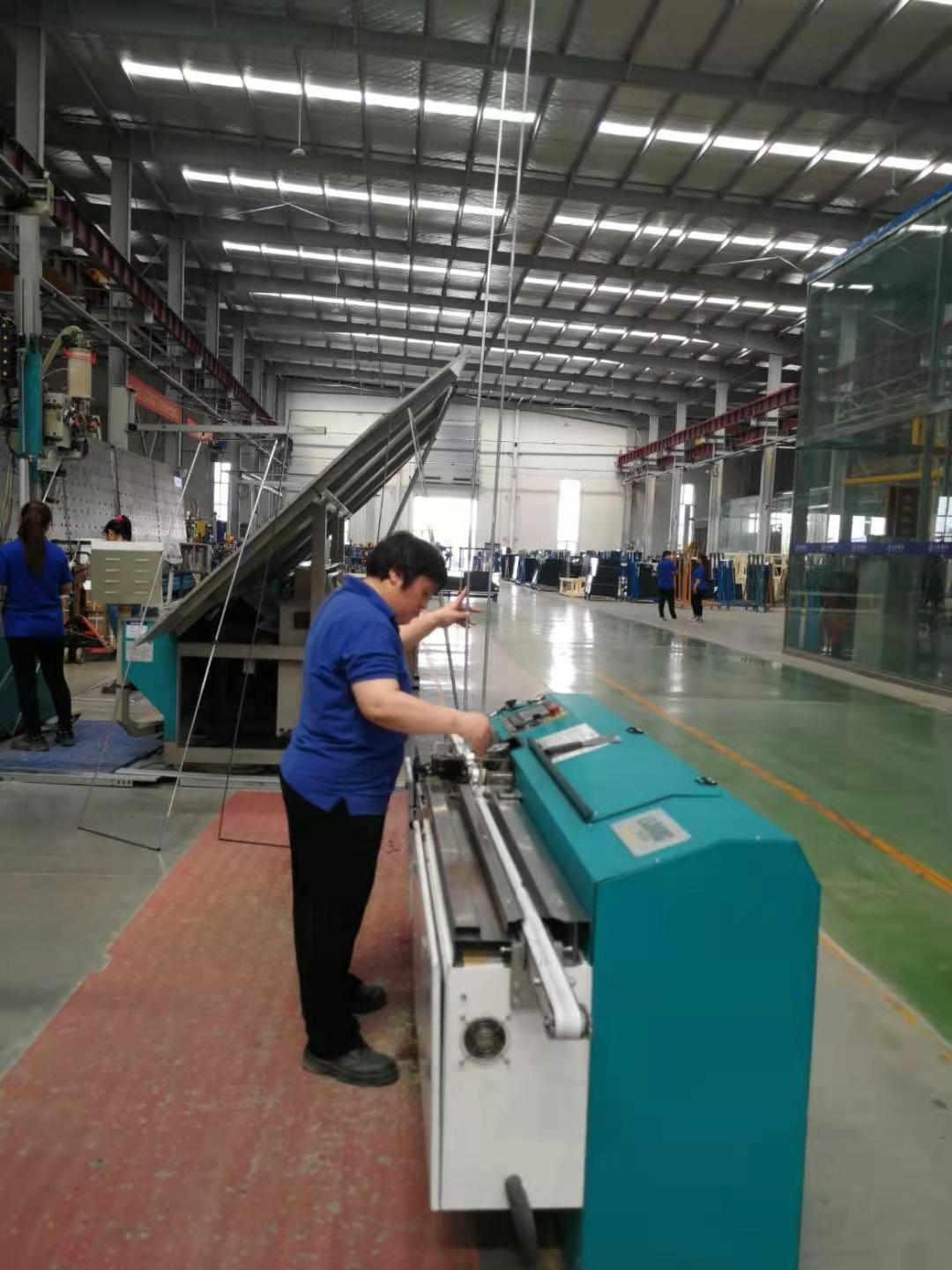 LIJIANG Insulating Glass Butyl Extruder Machine in China Yaohua
LIJIANG Insulating Glass Production Line in China Yaohua 1
LIJIANG Insulating Glass Production Line in China Yaohua 2
Summary
This article presented information about glass suppliers in two forms. First, Key North American Glass Suppliers Identified by Niche. Second, Top Global Glass Suppliers.For more detailed information on these and other suppliers, visit the Thomas Supplier Discovery Platform, which also has a selection of more than 1,500 glass suppliers broken down by type (e.g. laminated or tempered) or application (automotive, safety, architectural, window, and more).